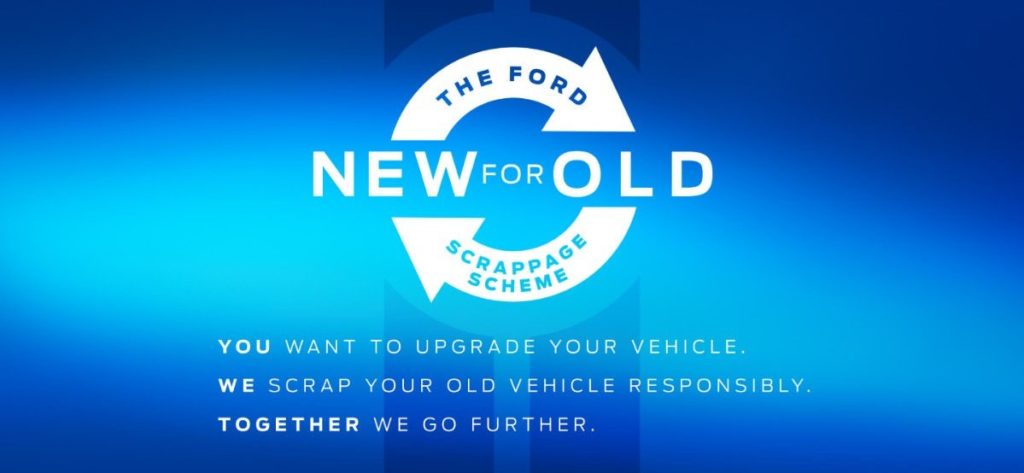 July 1, 2019
Ford Scrappage Scheme
You can save at least £2,000* off a new Ford car at John Darke when you trade in your old vehicle for a new Ford vehicle with the New Ford Scrappage Scheme. You can have peace of mind that Ford will manage the scrappage of your old vehicle responsibly.
How you can save thousands on a new Ford
If your vehicle was registered before the 1st January 2013 and you have owned it for over 90 days, you could be eligible for our Scrappage Scheme savings towards the purchase of selected new Ford vehicles.
So why not book your test drive today?
Please call Jordan, Paul or Andy on 01507 603451 or visit our Louth showroom
Eligible Ford Cars: All-New Fiesta (Excl. Style & ST), B-MAX (Excl. Zetec), New EcoSport, Focus (Excl. ST, RS & All-New Focus), C-MAX, Grand C-MAX and Kuga only.
*Selected new Ford vehicles only (see below). For Ford Cars, £2,000 Scrappage Saving (inc. VAT) available off the Recommended On The Road Price. Contract and Register by 30th September 2019. You must also trade in a scrappage vehicle that was registered at the DVLA before January 1st 2013. You must have owned the scrappage vehicle for at least 90 days before your Contract Date. Scrappage Saving not available with any other Ford promotion. Retail customers only (excl. Privilege and Ambassador). At participating Ford dealers.
John Darke Ltd
0 hours ago
0 days and 8 hours ago
Mr McCormack has taken delivery of his brand new Ford Fiesta ST-Line from Jordan. Thank you for your much appreciat… https://t.co/JKlHGFy33z
0 days and 8 hours ago
Mr & Mrs Brockett have taken delivery of their new Volvo V40CC from Jordan, thank you for your much appreciated cus… https://t.co/zLiyCHzF4Q
0 days and 8 hours ago
Mr Crawford has taken delivery of his new Vauxhall Corsa from Jordan. Thank you for choosing John Darke Ltd, enjoy… https://t.co/XA9E4Pr3M0