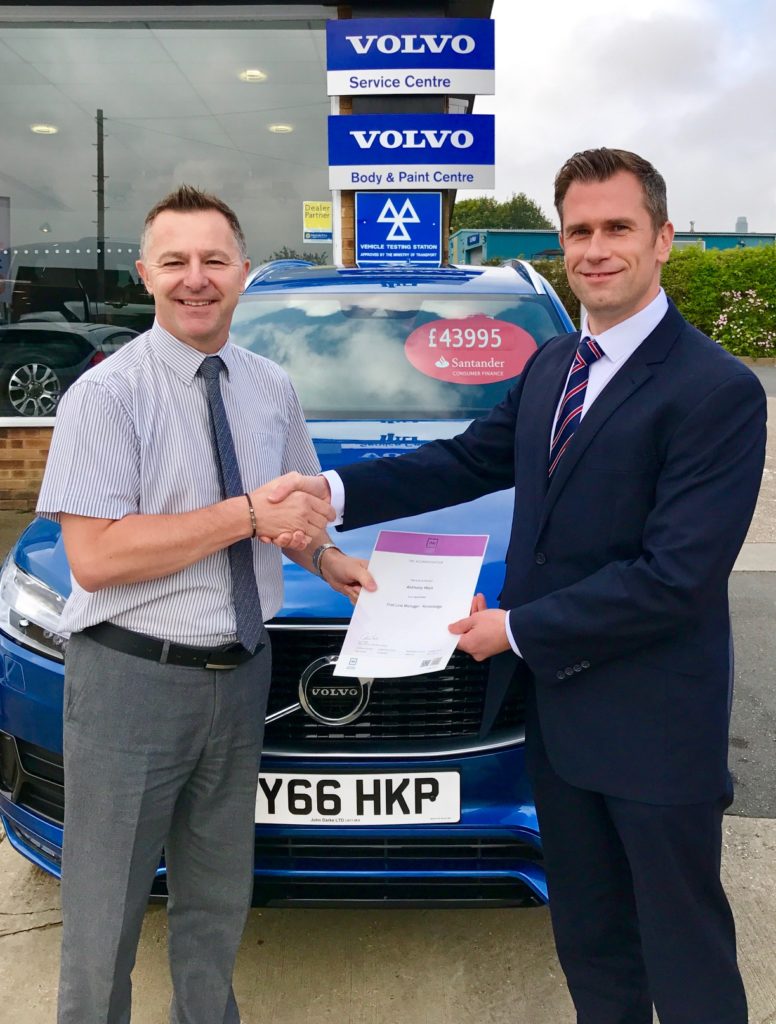 September 26, 2017
Tony Achieves Prestigious Qualification
Tony Achieves Prestigious Qualification
We are proud to announce that Tony Hey's, Aftersales Manager, has achieved the IMI Institute of Motoring Industry First Line Manager qualification.
Tony has been working since the start of this year with the Volvo Training Academy in Daventry to complete this course. Alongside 6 residential modules in Daventry Tony had to put together a significant amount of project work in his own time to achieve this prestigious qualification. The learning and work carried out is directly related to Tony's position of Aftersales Manager and will set both Tony and John Darke up for future.
We are very proud of Tony's achievement and congratulate him on this fantastic achievement.
Pictured are Tony Heys (left) collecting his certificate from Paul Wooding, Sales Director.
0 days and 11 hours ago
Mr David Ward has taken delivery of a low mileage Transit custom from Jordan. Thank you to David from everyone at J… https://t.co/AQH88wepKj
2 days and 6 hours ago
A Brand New Ford EDGE ST LINE has arrived today. Skip the waiting list - this amazing car is available for... https://t.co/d9DAfVSu9d
3 days and 8 hours ago
Mr Alan Hayes has taken delivery of a low mileage ex demonstrator Fiesta from Jordan. A big thank you goes to Alan… https://t.co/PUQFuJUCMZ